AlbCard - Guest card Swabian Alb
Because vacation is more than just a bed!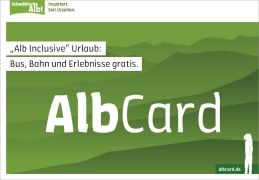 With your booking with an AlbCard accommodation you will receive the entry key to the entire region.
Anyone who has ever been a guest in our region appreciates our inventive spirit. Here, 40,000 years ago, people discovered the beauty of art and music, famous noble dynasties built magnificent mansions and resourceful gourmets developed regional specialties of national renown.

The pursuit of innovation and perfection is always with us - also in guest service. Since April 2020 you can enjoy the latest creation: the AlbCard. At the invitation of the participating hosts, you will receive your key to genuine Alb happiness free of charge. All typical Alb experiences and attractions are bundled for you in the AlbCard, which you can combine as you wish every day and visit free of charge. To make your guest dream come true, the AlbCard is valid as a ticket for all local public transport in the region - in the big cities as well as on the Alb plateau.
Where do I get the AlbCard?
The AlbCard will be given to you by your AlbCard host when you check in or it can be sent directly to your smartphone if you wish.

Now you can start: unlimited, environmentally friendly mobility and maximum adventures without any additional costs during your entire stay with our hosts. Guest service in perfection.

All AlbCard hosts and experiences can be found on the AlbCard-Homepage.